Build stronger relationships between you and your little ones
PURPOSE AND OBJECTIVE:
Home away from home… Options can be very limited when looking for a place away from home where adults can bond with their children.  Lynnwood Play Happy Café is a great place to nourish your child in his/her early years. Whether it is pre-schooling or just a happy activity over a healthy snack, we at Play Happy Café make sure your child is having the time of his/her life while you are too!
ALL UNDER ONE ROOF: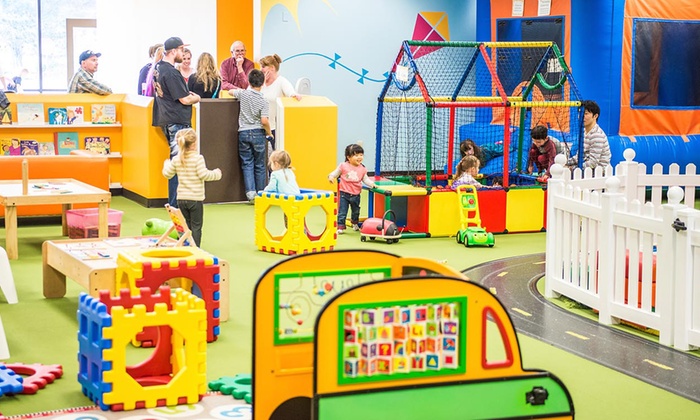 Children have a curious and playful nature that should be cherished and nourished. Our Lynnwood location offers everything from food to activities.  Check out some reasons to visit out the playground.
Eat and Play:  Play Happy Café is a place to build your child's healthy eating habits and for you to grab a snack during your child's playtime activities.  Feel free to sample from our awesome and healthy menu. We strive to be nut free and offer gluten-free and vegan items from our food menu.
Adult Time is Important Too:  We know you love your child.  We also know it's nice to talk with adults from time to time.  At Play Happy you can do both. Have a quick play date and catch up with your friends.  Enjoy a coffee and wholesome lunch while your kids have the time of their lives.
Our Pre-School Facility: Early years are extremely essential and we happen to be the best in Lynnwood when it comes to pre-schooling.
Our Focus on Play Hours:  Playing is a child's basic need, and in the unpredictable weather our indoor play area comes in handy.  Your child can meet new children and reconnect with "old friends". Come make a new friend!
Extra-Curricular:  Children are full of life and excitement and get bored easily.  During the summer we offer educational classes to keep them activity engage and build a child's curiosity for life.
Wholesome and Healthy Food
Play Happy Cafe is not just focused on playtime alone, we also love to feed our bodies with healthy wholesome foods.  Healthy nourishment for your little one helps their physical, emotional and cognitive development; and at the same time developing healthy eating habits. We are very particular about the quality of food we provide to the children and grown-ups at Play Happy Café.  We are very passionate about the safety of our customers for serious nut allergies, therefor the meals are nuts and peanut free.
We have a great kids menu to help parents feed their children healthy each time without interrupting their quality playtime.  As we believe in building a quality relationship between you and your child, meal time is a great time to do so. Our cafe also has a delicious adult menu with vegan and gluten-free options.  We are happy to let your child play and eat and then play some more at Play Happy Cafe.
Play Time
Play happy café provides a fun and safe place for you child 0-6 years old to learn and grow.  We understand the significance of playtime for children and at the same time building relationships with parents is our main goal.
Nothing is as natural as playtime for children. Giving your child undirected play time enhances their creative and social skills. When play is allowed to be child driven children practice decision-making skills, move at their own pace, discover their own areas of interest, and ultimately engage fully in the passions they wish to pursue.
Play allows children to create and explore a world they can master, conquering their fears while practicing adult roles, sometimes in conjunction with other children or adult caregivers.  As they master their world, play helps children develop new competencies that lead to enhanced confidence and the resiliency they will need to face future challenges. These early years of your little ones demand the most of your attention thus it's a great place where you can be around your child while they explore and learn in a fun and safe environment.
Enrichment Classes
Play Happy Cafe offers Dance classes just for you little dancers from 2yrs-5yrs old.  Dance classes at play happy café are fun and pressure free giving your child the ability to build confidence within themselves.  These enrichment classes give them an introduction of movement and self-expression as well as Ballet, Tap, and Jazz.
Play Happy Preschool
Play Happy Cafe provides a wonderful Preschool program for you little 2 ½-5 years old in a play-based and creative curriculum.  Our play-based and creative curriculum provides a setting which fosters self-esteem, builds confidence and is based on respect. It is our goal that the children be empowered to take risks in their learning.   Play Happy Preschool offers morning and afternoon classes and also a lunch bunch to those students enrolled in Preschool. A nutritious lunch will be provided by the cafe, with teacher supervision.
When summer comes your children will still have the opportunity for growth with our fun summer classes.  We offer kindergarten prep class and exciting classes such as cooking, science, creepy crawlies, space, and pirates to get the creative juices flowing.  These are great classes to keep the minds thinking and continued social development throughout the summer.
A happy place for children and grown-ups
Play Happy Café provides a fun, friendly, healthy, clean and safe "third place" for families with children 0-6 years old to enjoy time together and connect with others in their community.  Here you can socialize with other adults while your children learn and play.
Every parent wants the best for their child and we truly respect that, we are happy to provide a space for you and your children to safely play and grow.  Our facility is a great place for new moms to interact and learn from one another. While giving your child an opportunity to free play unstructured and also a chance to try some fun classes.  Soon they will be ready for preschool. Preschool is a big step in your children's lives and parents can play an essential role by choosing the right place for them. They will be happy and comfortable growing up at Happy Place Cafe and ready for Happy Place Preschool already know our facility.
Happy Place Café in Lynnwood
Come check us out, if you new to the area or have been in the Lynnwood area for awhile, we are excited to have you and your children come play.   Play Happy Cafe is centrally located just off the crossroads of the I-5 and 405 freeways and a short drive from Seattle, Everett and Bellevue, it's an ideal place for a playdate with your friends or to make new ones! Our 8,500 square foot space is a fun, safe and secure place to explore.
Knowing how unpredictable the weather can be, Play Happy Café is the biggest indoor playground facility in Lynwood. Children can go about and play, learn and socialize while you sip on delicious coffee and meet old and new friends.  We believe that kids AND grown-ups could use a place to gather, connect, play, eat, grow, learn, celebrate, relax and be nourished. Join us at Happy Place Cafe in Lynnwood.
Parties
Play Happy Cafe has three beautiful party rooms for you to choose from and enjoy your child's special day.  Play Happy Café helps you celebrate without the stress, letting you and your child to enjoy time with your friends and families.
However you wish to celebrate we can be of assistance to you, even if you wish to invite their classmates or a large group of people we can easily accommodate them in our three beautiful party rooms.  All parties have access to our 2,000 sq ft main upscale play area for the day that is stocked with quality toys, a bouncy house, climb-up/slide down structures, a play town including a stage with costumes, a train station, a fire station and much more. For the littlest ones, we have a special infant/crawlers play space just for them.
We also have a TWO HOUR full facility exclusive rental option for Saturdays after 5pm (We will close to the general public for you) or Sundays after 5pm. We can accommodate a small to medium sized party so you can have the whole place to yourselves or large parties up to 150 people.  There cannot be a better option than Happy Place Café where we let you party and celebrate whether privately or have a semi-private event and leave the organization and clean up to us so your child can enjoy with family and friends.
MISSION STATEMENT:
We at Play Happy Café provide a fun, healthy, clean and friendly environment for families where you can easily bond with your children in their early years and connect with others in your community.  We create exciting and creative atmosphere for children to encourage their imaginative play, learning and socialization.
Our aim is to:
Cater to the child and the parent.  Fun and enriching for the child. Relaxing and comfortable for the parent.
Create an environment for children that promotes imaginative play, learning and socialization.
PlayHappy Cafe is located in the Lynnwood Town Square building right across the street from Goodwill. Look for the building with the red roof. There should be plenty of parking in our front parking lot. If not, there is street parking and also a rear parking lot and a rear door.  Give us a call 425-582-7007 if you have any questions or to reserve a party room or classes. You can find us online at playhappycafe.com there we will have membership information and class information, if you would like to email us please do so at This email address is being protected from spambots. You need JavaScript enabled to view it. We hope to see you soon.